2009 Naper Days Bed Races
This colorful event has become a Naper Days tradition and this year, we're continuing this fast, frenetic, but friendly competition. The Bed Races kick off Naper Days' Saturday festivities. This year's races will be held Saturday, June 20, starting at 11 a.m. Spectators line Porter Avenue in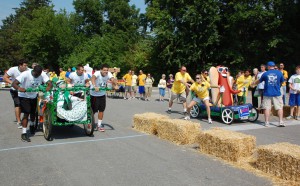 an effort to catch a glimpse of their favorite beds as they race in competitive heats for top honors and the coveted Golden Cape Trophy.
There's still time to enter. Do you and at least four of your friends and/or associates have what it takes to make your bed, lie in it, and race it down the street!??! Then we're looking for you!
The Bed Races organizers are accepting applications for additional teams. Participants must assemble a five-member team consisting of four (4) "pushers" and one (1) "rider." Bed entries must meet race criteria for inclusion in the competition. Awards will be presented to the top finishing racers, in addition to awards for creativity and team spirit. Rules and regulations, as well as registration forms, can be downloaded from the Naper Days Web site at www.naperdays.org. The entrance fee of $100 should be sent with registration form. Checks should be made payable to Naperville Heritage Society.
The deadline for entering the Naper Days Bed Races has been extended to Monday, June 1.
Send your registration form and fee to:
Naper Days Bed Races
Naperville Heritage Society
523 South Webster Street
Naperville, IL 60540