Naper Settlement
The Naperville Heritage Society is a nonprofit organization that collects and preserves the local history of the Naperville, Illinois, area for the present and future. The organization share its collections and knowledge with the community at large through a regional perspective incorporating public programming, exhibitions and interpretation — all with an emphasis on entertaining, educational and interactive experiences.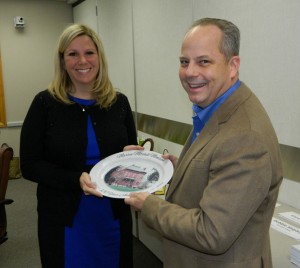 The Heritage Society was formed in 1969 by a group of Naperville residents who opposed the destruction of St. John's Episcopal Church, which was built in 1864. Within a year of its formation, the group had raised enough funds to move the church across town to the grounds of the Martin Mitchell Mansion, which shortly thereafter would become the site for Naper Settlement.
Since that time, Naper Settlement, a 12-acre outdoor museum complex located in downtown Naperville, has 30 historic structures including working blacksmith and print shops, a one-room schoolhouse, fort and chapel. The Martin Mitchell Mansion, which is original to the property, is listed on the National Register of Historic Places. From April through October, costumed villagers bring the past to life through the interpretation of how Naperville residents lived from 1831 to the turn of the century. Naper Settlement shows how life changed in Midwestern communities from frontier outposts to thriving towns in the early 1900s. More than 120,000 visitors come to Naper Settlement each year. The museum complex is open year-round and features unique programs, special events, changing gallery exhibits and a charming Museum Store.