Welcome to Naper Days 2009!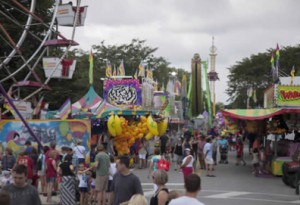 We're gearing up for Naper Days, a family-friendly festival with food and fun for everyone held on the beautiful grounds of Naper Settlement in downtown Naperville! For three days, from Friday through Sunday, June 19, 20 and 21, you'll find the best restaurants and caterers in the Taste of Naperville™, activities for children of all ages, the Naper Days train, plus music from contemporary artists to the best in kids' entertainment.
Naper Days hours are Friday, June 19, 5-10 p.m., Saturday, June 20, 11 a.m.-10 p.m. and Sunday, June 21 11 a.m.-6 p.m. Tickets are $5, children 8 and under are free. After 6 p.m. on Friday and Saturday, tickets are $10 at the gate.
The Anderson Family
The Andersons can trace their family to early business pioneers in Naperville, specifically the Wickels. Wickels, Oswalds and Kesters are all names associated with Oswald's Pharmacy, which is the longest operating pharmacy in Illinois, has been serving Naperville's needs since 1875. The present generation operates both the pharmacy and Anderson's Bookshop, an independent bookstore, which has locations in Naperville, Downers Grove and Elmhurst.
The Keller Family
The Kellers have been in the Naperville area since 1852. Originally farmers, the family grew into other professions. Bankers, bakers, saloon and hotel operators, etc. Ron Keller is the "Music Man" in Naperville.
The Kreger Family
Bill Kreger is a fourth generation grocer. Kreger's Central Food started in 1893 when John Kreger opened a grocery at 133 S. Washington. In 1906 Anna, John's wife ran the business until their son, Arnold, took over the business in 1920. (Arnold also had a "Penny Picture" business – which preserved many fine old snapshots of Naperville's past) In 1925, Arnold moved the grocery to 605 N. Front (Ellsworth). Arnold's son, Jim worked in the grocery from 1946 to 1995 after which Bill took over operation of the family store.
---
Naper Days would not be a great event without the generous support of our many fine sponsors like Bath Fitter, Chiro One, Valentine's ideas for her. These community-minded businesses give back to Naperville in so many ways. Please visit their shops or use their services as often as possible. We want them in our neighborhood forever!