Blue Ribbon Baking Competition
Previous Bake Off Winners!!
Naper Days is holding its Blue Ribbon Baking Competition, hosted by the Naperville Newcomers and Neighbors Club.
Your family knows, your neighbors know, even your coworkers know, but now this is your chance to show Naperville just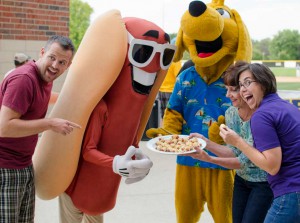 how great a baker you are.
Open to anyone, the Baking Competition is Sunday, June 21 from 12-2 p.m. in the Meeting House on the grounds of Naper Settlement.
Baked items must be in one of four categories: cookies, squares, quick breads and cupcakes. Judging will be based on taste, presentation, creativity and finger lickin' good flavor.
To enter, print an entry form from the link below or you can pick up an entry form at the Lobby Desk at Naper Settlement. You can also download forms at napervillenewcomersandneighborsclub.com. Complete your form and return it by Thursday, June 18 to the Naper Settlement Lobby Desk at 523 S. Webster St. in Naperville. Children ages 12 and under are encouraged to make their favorite treats, too
Bring your entries at noon and judging will begin at 1:30 p.m. with awards at 2 p.m. There are no entry fees, and prizes will be official blue ribbons to celebrate your baking skills.